Tada Food Co., Ltd.
Product planning, wholesale & retailing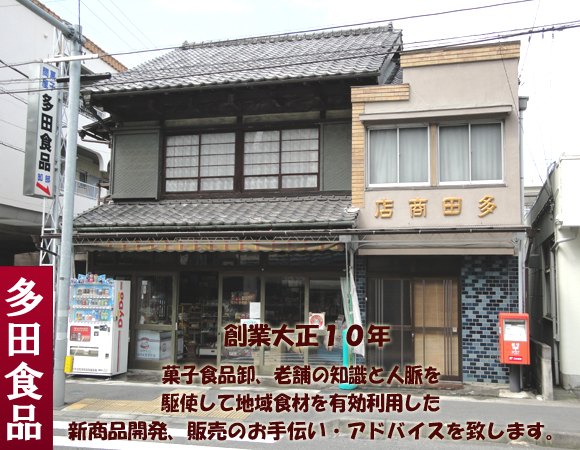 The company (retail store) set up in the 10th year of Taisho period (1921) still runs.

Orange vinegar, Soutou Natural vinegar is made from orange in Shizuoka Prefecture, and tops sales ranking. Soutou is the registered trademark of the company.

Youkan (sweet potato and lime) Use sweet potatoes grown at the west of Hakone and Izu orange (also customize produces and aquatic products)

Wasabi New Year's cake pieces Use wasabi from Izu.

Wasabi Okara Chips (Mayonnaise flavor, soy sauce flavor, cheese flavor)

Bitter orange oil Natural orange oil made from orange grown at the foot of Fujisan.

Maltose Customize maltose based on orders.
We wholesale popular pastry. Over 30 years ago, we process local produces and aquatic products. We promote OEM-based PB product development and marketing. We seek non-plant operation, using local raw material.
In places, we seek cooperation with partners who produce or use (process and sell) produce and aquatic products. We seek product development and drafting, using local raw material.
We co-work with those who boast resources. It's a way towards business boom.
Besides, we seek to utilize scrape and sub-quality products, which will minimize cost.
We give product development suggestions on fructose, soft sweets, cake made from red bean flour, sugar, agar, buckwheat, noodle, spaghetti, stretched noodles, jam, rice crust and pieces of New Year cake, based on local produces and aquatic products. For any interest, contact us.
Year of 2015: more than 50 enterprises, organizations and groups participated in product development, suggestion and sale.
Year of 2012: Certified with qualified enterprise in Shizuoka Prefecture
Year of 2011: Certified with operation innovation (cooperated with county industrial technology center; develop soap and aromatic oil made from Shizuoka orange)
Year of 2010: Registered Soutou trademark
Year of 1992: Certified with product qualification by National Association of Souvenirs and JBAH

会社名

Tada Food Co., Ltd.
住 所

1-4-6, Omiyamachi, Mishima, Shizuoka Prefecture, 411-0035
電 話

055-975-0503
FAX

055-971-9179
メールアドレス
取扱商材

Bitter orange oil, Youkan (sweet potato and lime), Wasabi New Year's cake pieces, Maltose