Wet Tissue (Scent of Green Tea) from The Town of Fujiyama
Articles of daily use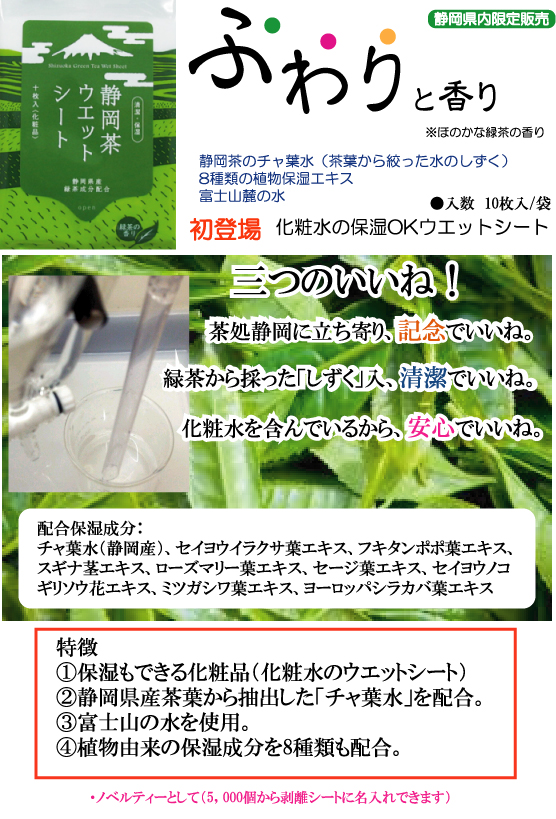 4573194470011; Fujiasan Wet Tissue (scent of green tea) 150 yen

Toning wet tissue. A tissue of moisturizing

Photo

Photo

Photo

Photo

Photo
We started to sell the following products from April 2015.
The wet tissue (cosmetics) is made from Shizuoka green tea extractives, and 8 herbal moisturizing essences from the wealth of Fujisan. It helps to cleanse and moisturize. It's a mix of refreshing green tea.
Gift of a tester and POP for first purchase
Further offer for large orders
Features
1. Moisturizing cosmetics (toning wet tissue)
2. A mix of tea leave water in Shizuoka
3. A mix of water of Mount Fuji
4. A mix of 8 herbal moisturizing essences.
Moisturizing essence: Tea water (from Shizuoka), nettle extractive, farfara extractive, field horsetail extractive, rosemary extractive, sage extractive, yarrow extractive, buckbean extractive, white birch leave extractive
Packing: 10 pieces/bag
Price: 150 yen/bag (after-tax price)
Direction: Tear from the "OPEN" of the wrapping to use.
A souvenir for friends (packages loved by overseas tourists)
As tea and new products (10,000; as name tags)